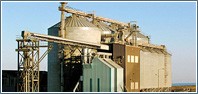 Thermography
is a predictive maintenance thechnique that can be used to monitor the condition of plant machinery, structures, and systems. It uses instrumentation designed to monitor the emission of infrared energy to determine operating condition. By detection thermal anomalies, an experienced surveyor can locate and define incipient problems within the plant.

Infrared scanning procedures
The purpose of an infrared inspection is to identify and document problems in an electrical or mechanical system. The information provided by an inspection is presented in an easily and understandable form. A high percentage of problems occur in termination and connections, especially in copper-to-aluminum connections. A splice or a lug connector should not look warmer than its conductors if it has been sized properly. All problem connections should be dismantled, cleaned, reassembled, or replaced as necessary.

Types of infrared problems
There are three basic types of thermal problems:
(1)Mechanical looseness
A loose connection will result in thermal stress fatigue from overuse. Fuse clips are a good example because the constant heatup and cooldown creates a poor connection.
(2)Load problems
(3)Component failure
Understanding the nomenclature of the problem can identify component failure. Specifically, the actual component will be the heat source.

Common problems found and what to scan
(1)Motor control and distribution centers
Have the switchgear panel covers opened or removed by qualified personnel before inspection. Scan cable, cable connections, fuse holders, fuse circuit breakers,and bus.
(2)Main secondary switchgear
(3)Circuit breaker distriution panels
Covers on small circuit breaker panels do not have to be removed for scanning. Circuit breakers and conductors are very close to the metal covers.
(4)Bus Duct
Electrical conductors are very close to the metal "skin" of the duct. Defective joints are usually detectable by the heating of the cover in the vicinity of the problem.
(5)Motor
Do not scan motors less than 25 horsepower unless they are critical to production.
(6)Transformer-oil Filled
On all transformers, the oil level should be inspected during the survey. During the infrared survey, if a transformer appears exceptianally warm, the cooling radiators are near ambient temperature, and the transformer is above 50 percent of full load, the oil level is too low to circulate the oil and cooling is not taking place.
(7)Transformers-Dry-Type
Compare all windings. If temperatures are over a winding, but there is a difference in temperature of two windings, there may be an unbalanced load. A hot spot on a winding may point to s shorted trun.